UV light sterilization bag for sanitizing your personal products such as iPhone, iPad, phones, tablets, keys, toys, headphones, glasses, watch, toothbrush, bottles, baby products, jewelry, masks, makeup brushes, kitchenware, silverware and many other personal items. The bag has large capacity to put multiple items together and it takes about 5 minutes to completely sterilize your items killing 99.9% of germ viruses and bacteria. The UV sterilization effectively designed to quickly sterilize your items without impacting the structural integrity of your items through excessive heat. The bag is a simple home, office and travel solution to clean and disinfect your personal items whenever you want it.

Size & Portability: 10.2*7.5*5.5 inch in size. Weight 500 grams
- Bag is fold-able to smaller size, extremely portable to be taken anywhere and easy to carry.

Features:
- 4 hours charge time
- 12 hours usage per charge
- 10,000 hours service life
- Green and Red light indicator for status of charge, product usage and when the unit needs charging
- Very effective 12 LED P55 UV-C lamps(265nm). More than competitors which usually have 6-8 LED lamps. Tested to sterilize without heating up your items from within. Some competitor models with higher lamp concentration can harm the internal structure of your items over repeated usage.
- Inspected and passed from FCC / ROHS / EPA via certification # 97123-CHN-1
- Non mercury LED's and does not use any chemicals
- One touch operations
- Leak proof design to prevent any leakage of UV and UV-C light
- Built in protective feature of self shutting of UV light when the hood of the bag is opened more than 45 degrees
- Powered by included USB cable
- Includes low voltage 2000ma re-chargeable lithium battery

Material:
- High-quality water resistant twill polyester (stronger than cloth), non-fraying stitching, and strong zippers
- PU material based middle spacer which is detachable and washable
- Reflective materials inside the bag with micro angles to ensure uniform dispersion of UV light and maximum internal reflection for the most effective sterilization in shortest possible time.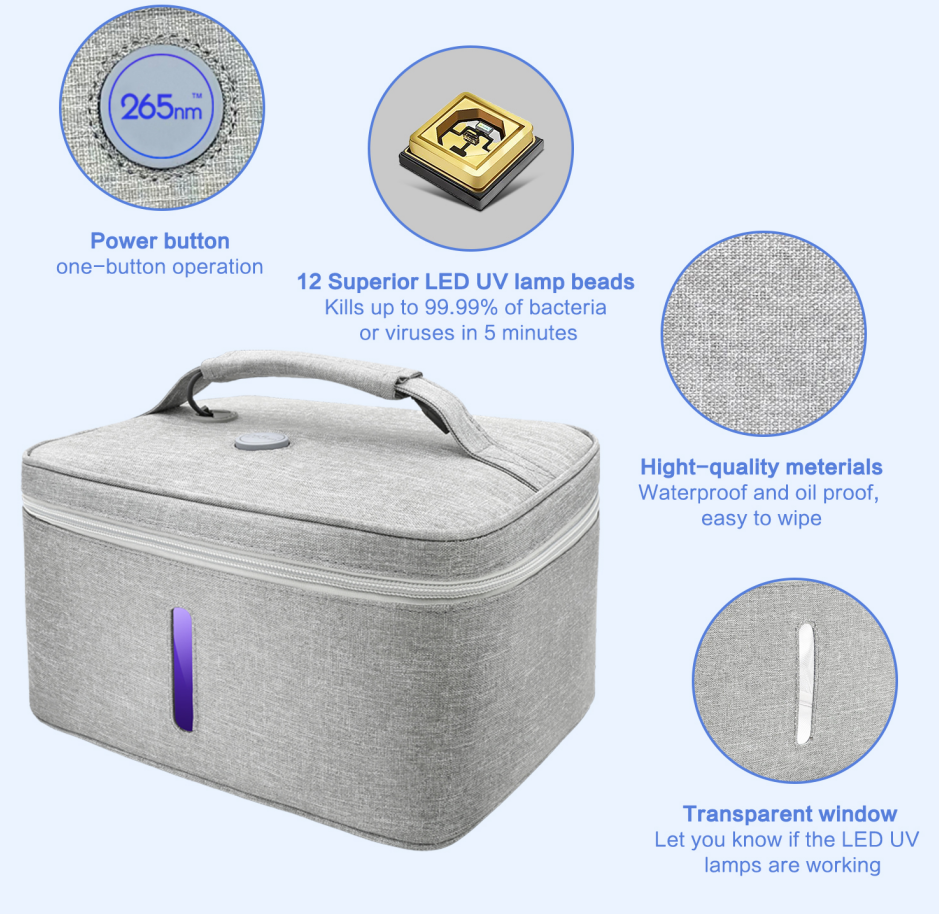 ---