Take your love for cooking to a whole new level with this Hitech Portable & Picnic Charcoal Smoker Steamer Wood burning Barbeque Grill. This multi-use grill is all you need to invite some friends over for a barbeque party or treat your family and loved ones to a scrumptious meal. Cook multiple dishes at the same time. This BBQ grill is great for picnics, parties, family gatherings and more. Be it vegetables, fish, steaks or burgers, this grill is sure to let you prepare mouth-watering dishes that your guests and family members are sure to love. This barbeque grill is extremely easy to assemble as well as clean. Thanks to its detachable legs and portable case, this coal-based Barbeque grill can be easily carried along while you go on a picnic. The unique warming rack of this portable Barbeque grill lets you keep cooked food warm for a long time. Be it a garden party or a weekend getaway, this grill is just what you need to grab the spotlight and showcase your cooking skills.

Features:

Heavy & Durable Grills
Superior Powder Coated Finish
Portable & Easy to carry.
Heavy & Durable Body
This BBQ is best suited for household / indoor purpose & picnic. This BBQ may not be suitable for commercial purposes.
Throttle + thermometer, adjust the firepower to control the temperature.
Large-capacity, rotating, screw open, carbon adding is so simple, one-person operation, many people enjoy.
Powder coating provides a durable, long-lasting finish that can withstand chipping, temperature fluctuations, moisture, and erosion
The powder coat process does not release any harmful air pollutants or give off any gas.
Both indoor and outdoor can be used, please pay attention to ventilation for indoor use, and pay attention to fire protection outdoors.
Specifications:

Height: 80cm
Diameter: 40cm
Weight: 8kg
Packing size: 90 * 47 * 47CM
Material:

This high-quality barbeque grill is made with Cast Iron which is an alloy of iron that contains some amount of carbon.
This high grade cast iron is highly resistant to heat and thus it handles the cooking process beautifully.
The removable steel-plated cooking grate provides a durable and sturdy cooking area, that is not only large enough for all your barbecue needs but also quite easy to clean.
Packaging:

1 X Portable Multi Function Barbeque Grill
Instruction manuals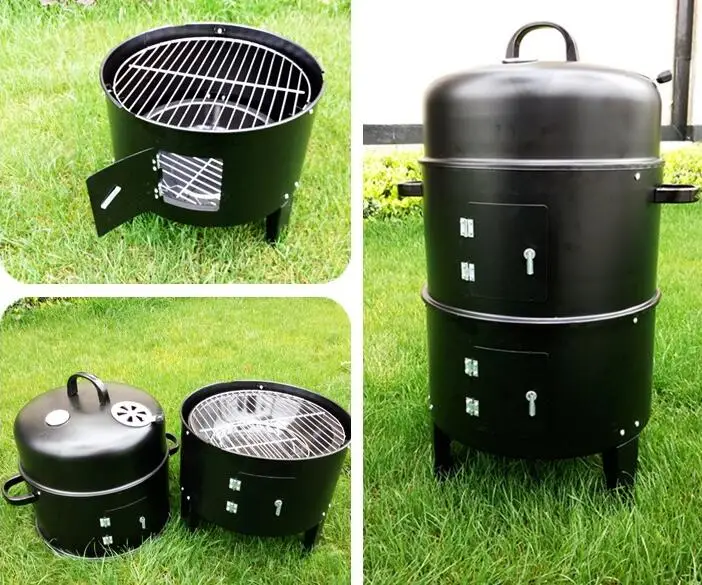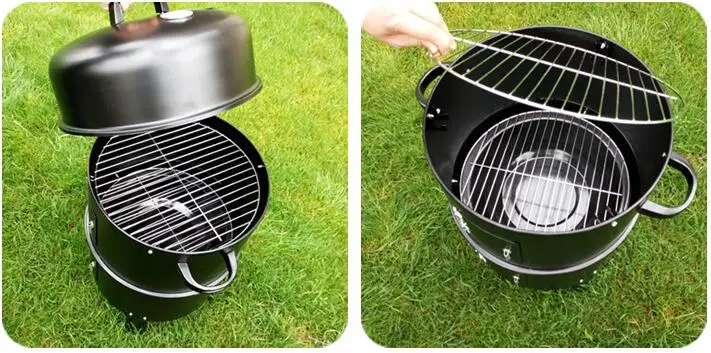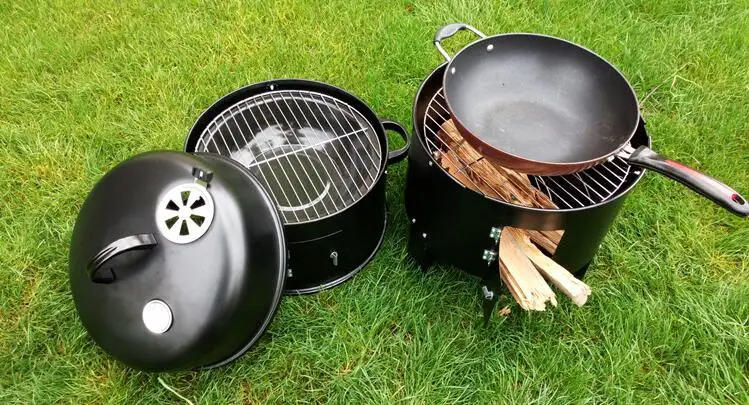 ---